Rajwada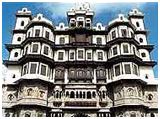 Synonymous with the heart of Indore city, it stands today as a mute witness to the bygone splendor of the Holkar rulers. This 200 year old seven-storey historic palace of the Holkars is built in a mixture of Muslim, Maratha and French styles.
The lower three floors are made of stone and the upper floors are made of wood, which made it very vulnerable to destruction by fire. Rajwada was burnt three times in its history; the last fire in 1984 took the greatest toll. Today only the front facade remains. Recent renovations have recreated some of the old glory of this beautiful palace.
Lal Baag Palace Lal Baag Palace is one of the grandest monuments the Holkar dynasty left Indore. A reflection of their taste, grandeur and lifestyle, its construction began in 1886 under Tukoji Rao Holkar II, and was carried out in three phases. The final phase was completed in 1921 under Tukoji Rao Holkar III. Many royal receptions were held here. It has a total area of 28 hectares, and at one time it had the reputation of having one of the best rose gardens in the country.
Bada Ganapati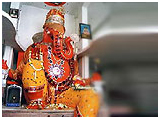 Better known for its size than antiquity, this temple houses perhaps the largest Ganesh idol in the world measuring 25 feet from crown to foot. Created as a result of the dream of an Avantika (Ujjain) resident, Shri Dadhich, it was built in 1875.
Kanch Mandir This Jain temple is an architectural marvel in glass. The walls, ceilings, floors, pillars and door knobs are entirely inlaid with glass. Even paintings are done in glass. Atop is a special glass chamber which multiplies the three statues of Lord Mahavira installed there into an indefinite number (said to be visible upto 21 times, corresponding to the 21 tirthankaras).
Town Hall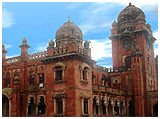 Made in 1904 and originally named King Edwards Hall, it was renamed Mahatma Gandhi Hall in 1948. Its architectural style is Indo-Gothic. Made in Seoni stone, its domes and staples are a landmark of Indore today. It has a four-faced clock tower in front, because of which it is locally known as Ghanta Ghar.
It is frequently the venue for the various book and painting exhibitions, fairs and festivals held throughout the year. The building also has a library, a children's park and a temple.
Central Museum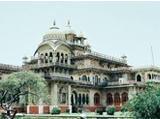 The Indore Museum houses the finest collection of Parmar sculptures from Hinglajgarh. The Parmar style originated here, and is characterized by proportioned figures, carefully and ornately depicted in stone. The museum is also known for its collection of coins, arms and armour.
Chhatris Chhatris are the tombs or cenotaphs erected in memory of dead Holkar rulers and their family members. The Chhatris picturesquely poised on the Khan river banks near Rajwada are incomparable in terms of Maratha architecture and sculpture of their period. Chhatri Baag is the main collection of tombs housed in two compounds. Close by is the beautiful Bolia Sarkar's Chhatri constructed in 1858 AD in memory of Sardar Chimnaji Appa Sahib Bolia.
Annapurna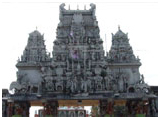 This temple was inspired by the Meenakshi temple of Madurai. Four life-sized elephants hold an ornately decorated gate in plaster. Inside the temple of Annapurna Devi are also temples of Shiva, Kal Bhairava, Hanuman and a Pravachan Hall. The outer wall of the main temple is decorated with colourful motifs from mythological stories.
Khajrana Ganesh Temple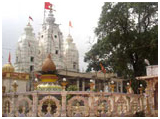 The citizens of Indore have great faith in this Ganesh temple, built during the reign of Ahilyabai Holkar. It is believed that all wishes are fulfilled by praying here. Nearby is the dargah of Nahar Sayed. This is an important pilgrimage place for Maita Muslims.
Bijasen Tekri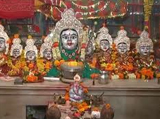 A 2 minutes drive from the airport leads you to a hillock on which was perched a guest house of the Holkars, now converted into Border Security Arms Museum, as well as a small temple of Bijasen Mata, built in 1920, which has a magnificent view of the sunset. A mela (fair) is held during the Navratri. A good picnic spot, with a breathtaking view of Indore city by night.
Gomatgiri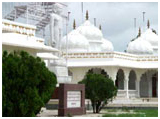 The Jain Samaj has constructed a 21 feet statue of Lord Gomateshwar, a replica of the Bahubali statue of Shravanbelagola. Also built here are 24 marble temples with shilars for each tirthankar.